Description
The high purity alumina powder produced by international advanced alkoxide hydrolysis method.The prepared product has high purity .good product stability.good insulation .good acid and alkali resistance.Widely used in sapphire crystal.YAG crystal.ceramics.the battery electronic .paint coating and other fields.
Specifications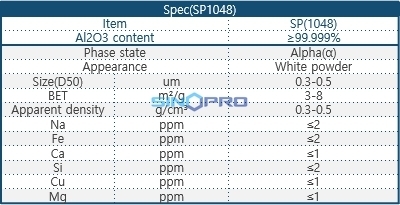 The particle size can customize according to customer's requirements.
Applications and Usages
Sapphire crystal.Crystal rod.
Transparent ceramics.
Laser crystal and Artificial stones.
Diaphragm coating.
LED/Rare Earth trichromatic phosphor.