Discription of product:
1. Stable electrochemical performance, charge /discharge current density can be increased more than 2 times, good flatness, low resistance, voltage and energy efficiency can be increased by more than 30%, and in the long process of charge and discharge energy efficiency without attenuation.
2. The current clients of our company include almost all domestic users of the production flow battery enterprises in the domestic China market (the marketing share of our products is more than 50% in china).
3. For overseas market,we export mainly the United States, Germany, South Korea, Austria, New Zealand and other countries.
4. The leading product of our company is used for the storage of graphite felt, which can make the charge/discharge current density two times higher than our newly developed liquid flow battery, all indicators are leading to other similar products, battery charge and discharge stability, and long-term without attenuation, has established a good reputation in the domestic and foreign energy storage industry.
Specification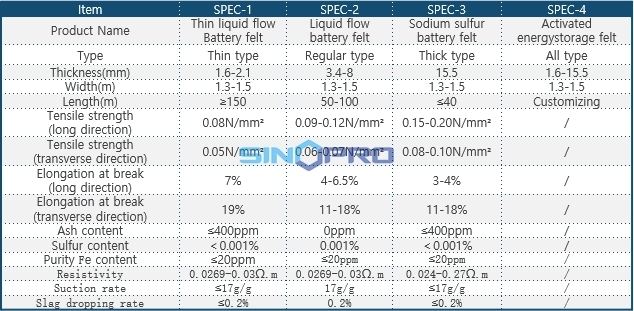 The main application of product
1:Energy storage materials with thermal field carbon materials
2:Liquid flow energy storage battery
3:High temperature vacuum furnace and heat treatment of photovoltaic industry