Basic Peristaltic Pump--M Series
Model No. : BT100M, BT300M, BT600M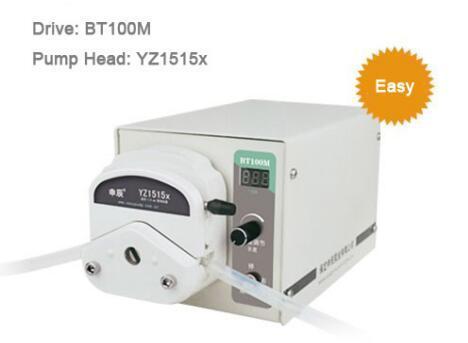 Acceptable Pump Head: YZ1515x, YZ2515x, SN Series, MC Series

Product Introduction
Basic peristaltic pump, stepper motor drive, toggle switch control start/stop and direction. Digital knob control the speed, easy operation. Support external control and RS485 communication interface. Suitable for industrial use.
Function and Features
1. Dual CPU control, separating the drive and control, quick operation speed, stable work and high precise transfer.
2. Acceptable pump heads: YZ1515x, YZ2515x, SN series, MC series and DG series.
3. Digital knob control speed. Easy to operate with high control precision, and long-term service life. Ensure high accuracy of transfer fluid.
4. High torque and low power loss, connect many pump heads in series or install multichannel pump head for satisfying the different application situations.
5. Load-shedding memory function.
7. Choose free external control module: 0-5V, 0-10V and 4-20 mA. Three signals all can control remotely rotational speed of pump, and also control start and stop of pump by the switch signal.
8. RS485 communication interface with MODBUS protocol reach external control.
Product Composition and Flow rate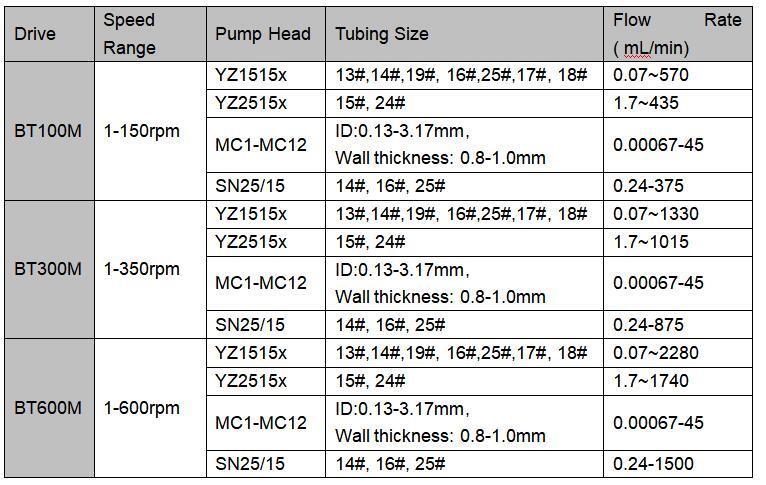 Technical Specifications