DF350 Filling System
Model No. : DF350/4FU/DY15 ( Servo motor drive)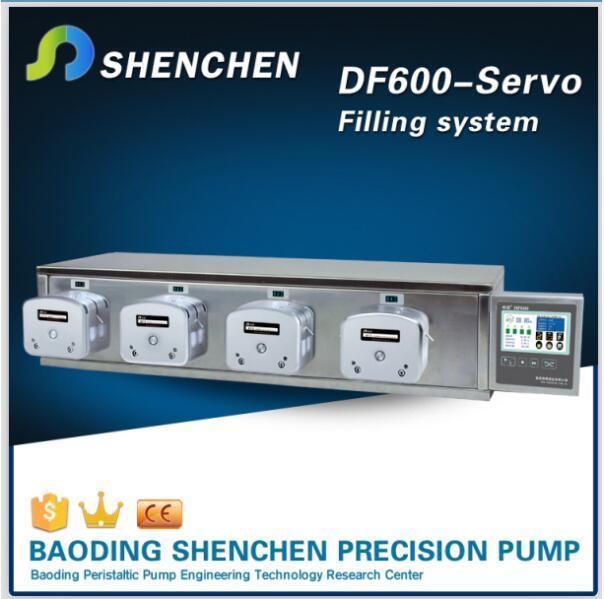 Product Introduction
DF350 integrated type intelligent filling system with servo motor drive, DY15 low pulsation pump head, special for high precision filling and dispensing. One controller can control maximum 16 filling units. 4.3 inch touch screen control, can preset filling volume, filling time, pause time and copy numbers. It can connect with foot pedal switch, HMI, PLC ..etc for external control. Filling accuracy is 0.1% ~0.6%, based on water.
Quotation
DF350/4FU/DY15,
Unit price: EXW US$10310.00/set. Special price: US$7220.00/set.
Tubing: 2 meters of silicone tubing free for each pump.
25# silicone tubing: US$4.00/meter.
17# silicone tubing: US$7.50/meter.
Packing: 1set/wooden case.
Delivery time: Within 20 days after receive the payment.
Payment term: T/T, 100% in advance.
Function and Features
1. The"Low Pulsation"pump head,special design for high precision filling.Through the phase difference between the two sets of rollers,make the fluid peaks and valleys complementary,then reduce the pulsation of the fluid. Adaptive pressure tubing space,extend the tubing lifetime effectively,actually achieve micro flow rate and large flow rate high precision dispensing.
2. The online calibration and online micro adjusting function, to make you convenient to calibrate or adjusting the filling unit during the production progress. It can avoid the filling errors because of tubing fatigue and elasticity decreased.
3. The filling system can store 60 commonly used filing modes, save users setting time, and improve working efficiency.
4. Back suction angle setting avoid liquid drop off when the pump stop working.
5. Effective unit setting, you can start or stop any filling channel during it working to meet different channel numbers requests.
6. One controller can control 4 groups,each group with 4 units,total 16 filling units.Also can be add filling units follow your request.
7. Each channel receive missing bottle stop filling signal separately, to make the single channel can stop when missing bottles.
8. Separate controller and filling units, can install the controller where is convenient to operate.
9..External control start and stop function, make it can be unified controlled by the host computer when working in filing line.
10. Load-shedding memory function,store the running parameters in time,safe and reliable.
11 .Fast filling liquid function, not only can wash the tubing, but also can fill liquid in the tubing.
12. 304 stainless steel housing, resist corrosion, no rust, conform to GMP sanitary request.
Technical Specification
Speed range: 1-350rpm
Dispensing volume range: 0.1-9999.99 ml
Dispensing time: 0.5-9999.99 s
Pause time: 0.5-9999.99 s
Dispensing volume resolution: 0.01 ml
Time resolution: 0.01 s
Copy numbers: 1-9999 times,setting"0"means unlimited
Back suction angle: 0-360°
Dispensing accuracy: <±0.5%
Motor type: Servo motor
Display: 4.3'' industrial grade true color LCDscreen
Control method: Touch screen and membrane keypad
Start/stop,direction: Passive switch signal,such as foot pedal
Active switch signal:5V,12V,24V for option
Output interface: Output motor working status(open-collector output)
Outlet pressure: 0.1Mpa(0.86-1.0mm wall thickness tubing)
0.1~0.27Mpa(1.6-2.4mm wall thickness tubing)
Power supply: AC 220V±10% 50Hz/60Hz (standard)
AC 110V±10% 50Hz/60Hz (optional)
Drive dimension: 910×290×212 mm(L×W×H)
Drive weight: 41.45 Kg
Power consumption: Each filling unit<180W
Condition temperature: 0-40℃
Relative humidity: <80%
IP rate: IP31
Filling Volume Reference ( Media is water)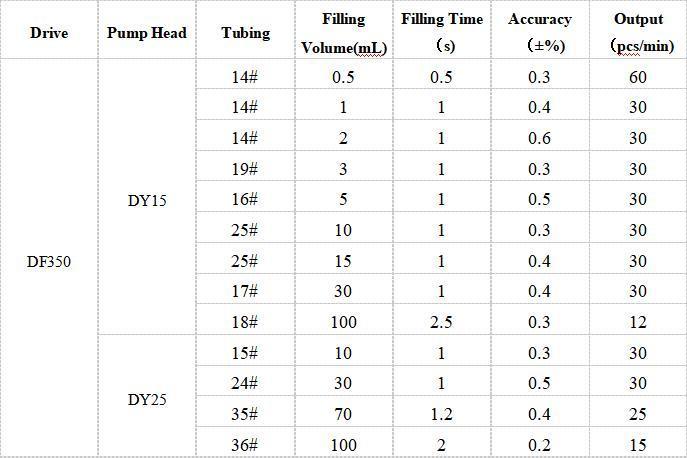 Dimension Drawing ( mm)