Industrial Dispensing Peristaltic Pump--F6 Series
Model No.: F6-3L, F6-6L, F6-12L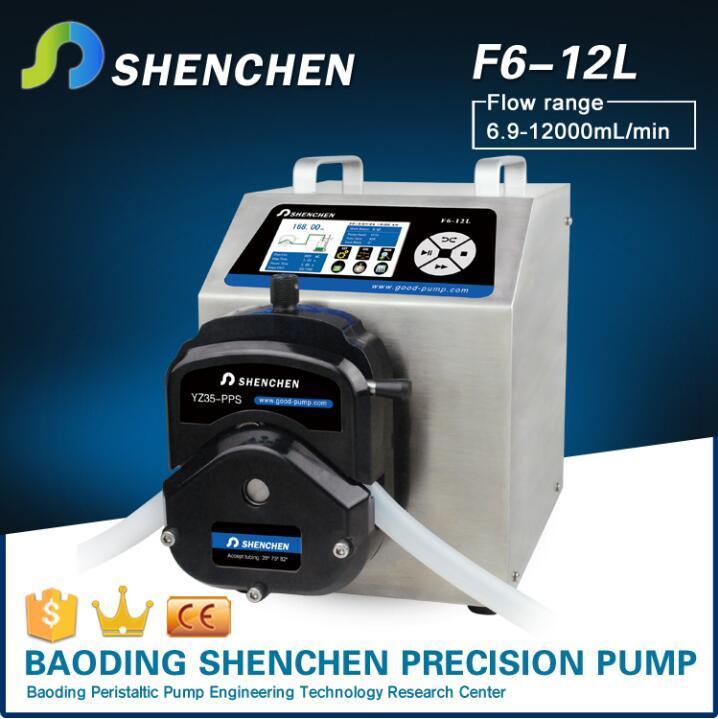 Product Introduction
F6 series, imported 4.3 inch industrial grade true color LCD screen, can preset the dispensing volume, dispensing time, pause time, copy numbers and back suction angle. Dynamic display the working status, dispensing parameters, setting parameters, system configuration in the same screen. Intelligent calibration and online micro adjusting function. Can connect with foot pedal or receive switch signal, achieve external control. Unique motor working status output signal, can be used for other equipments monitoring the peristaltic pump working status. This pump suitable for large flow volume, high efficiency and high accuracy filling. Such as: filling 500ml, the efficiency is 15 bottles per minute. Accuracy is ±0.5%.
Functions and features
1. Imported 4.3 inch - industrial grade - true color LCD screen, clear picture quality, more guarantee quality. Dynamic display dispensing status, dispensing volume, dispensing time, pause time, copy numbers and system setting in the same screen.
2. Servo motor drive, precise control, strong power, low vibration and low noise.
3. Shenchen-F-CIR circuit system, use imported chips, computing speed fast, reliable performance, working stable.
4. Shenchen-F-EMB operation system with unique accurate angle control technology, achieve high accuracy dispensing and dosing.
5. Intelligent calibration function, can calibrate the flow rate or dispensing volume, ensure the flow rate accuracy. Suitable for high precision liquid filling.
6. Online micro adjusting function. During the production process, if the tubes fatigue or abrasion, you can use the online micro adjusting function to adjust the flow rate without stop the pump.
7. The pump can store 60 common filling modes, save users setting time.
8.Back suction angle setting, avoid liquid drop off when the pump stop working.
9. External control start/stop function, it can connect with foot pedal switch. The pump also can be unified controlled by the host computer when working in filling line.
10. Automatic temperature control system, reducing the fan noise effectively.
11. Power down memory function, store the running parameters in time, safe and reliable.
12. Fast filling function, not only can be used for washing the tubing, but also can fill liquid to the tubing fast.
13. Strong anti-jamming feature, wide voltage design, suitable for complex power supply environment.
14. Circuit board spray with three paint, anti-dust, anti-moisture, anti-static, resist corrosion.
15. 304 stainless steel housing, comply with pharmaceutical GMP certificate requirement. Meantime, use seamless welding technology, avoid accidental spilled liquid on the housing infiltrate inside, to protect the inside circuit board.
16. DZ25-3L, DZ25-6L and YZ35 pump head, aluminum alloy material, 304 stainless steel rollers, strong rigidity, high accuracy, reliable performance, excellent quality.

Technical Specification
Product Composition and Flow Rate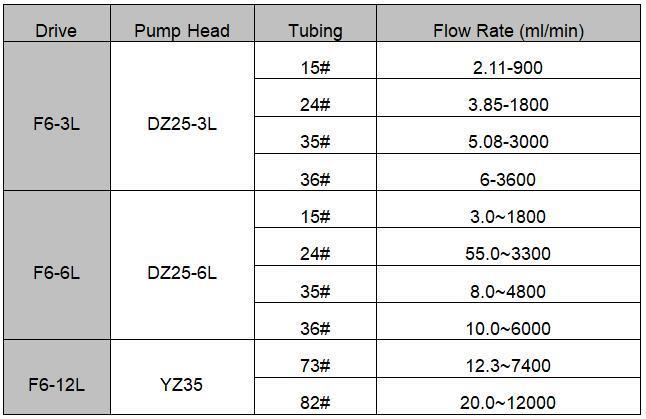 Filling Volume Reference Parameter (media is water)