◆ Air/Vent Filter - Vacuum Pump Filters

(type3)
► Specifications : 50mm
► Model : PTFE050N022O-PC(type3)
► Filter : PTFE
► Material : PC
► Flow direction : single direction
► Pore Size : 0.2um
► Sterilization method : E.O sterilization
► Packing : 12pcs / bag
◆ Product Description
1. PASS HEPA TEST
2. ¼" Hosebarb x ¼" Hosebarb
3. High flow rates at low differential pressures
4. Rugged PC housing withstands high temperatures, pressures and aggressive solvents
5. High particulate-loading capability to maintain flow rates over extended periods
6. Manufactured in clean room under controlled Conditions
7. Autoclave
8. Accept ID 7-13 mm tubing
9. It is specially fit for aseptic ventilation of small size fermentor and culture mdium tank.
◆ Application
► Reach to Hepa level.Filtarion efficiency: >99.99%
► Apply for 7-13mm tube.
► Application:
(1) Autoclave Filters
(2) Vacuum Pump Filters (pumpgard)
(3) Gas Analyser Filters
(4) CO₂ Incubator Filters
(5) small fermentation tank air filtration
(6) Online air filter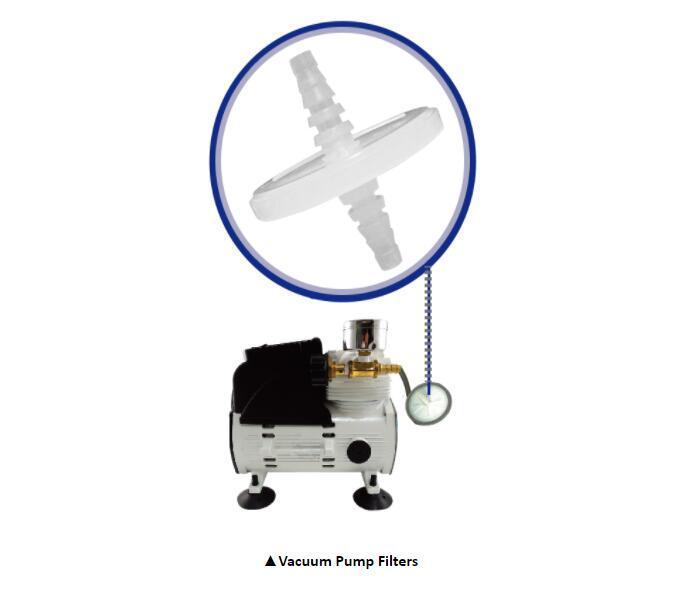 ◆ Specification