Description
SS-LA500 is high purity alumina powder which produced by international advanced alkoxide hydrolysis method. high purity 99.99% .Perfect performance in improving ceramic density, smoothness, the fracture toughness, creep resistance and wear resistance as well as keep temperature balance. It also be used in chemical fiber products and high pressure sodium as far-infrared emission and insulation material because of its excellent far-infrared emission ability.
In addition, alpha alumina has high resistivity and good insulation performance, it can be applied to YGA laser crystal and integrated circuit substrate as main fittings.
Specifications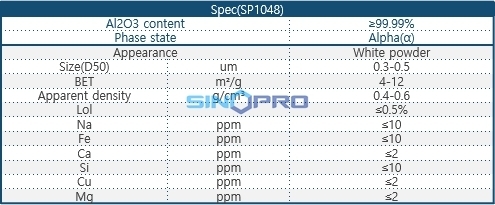 The particle size can customize according to customer's requirements.
Applications and Usages
1. Transparent ceramics: High pressure sodium lamp, EP- ROM window.
2. Li- Ion batteries, include LMO, LCO and LFP etc.
3. High strength alumina ceramic, C substrates, packaging materials, tools, high purity crucible, spools, bombardment target, furnace tube.
4. Precision polishing materials, glass products, metal products, semiconductor materials, plastic, tapes, burnish belt.
5. Coatings, rubber, plastic wear-resisting reinforced materials and heat conductive materials.
6. Vapor deposition materials, fluorescent material, special glass, composite materials and resin material.
7. Catalyst, catalytic carrier, analytical reagents.