Descriptions:
The fuel cell engine is an electric-electric hybrid engine developed specifically for city buses and logistics vehicles, and it adopts a fuel cell stack technology with completely independent intellectual property rights, that the stack size and power can be customized according to actual conditions to match different customer groups and application occasions.
China has launched the first Independent Intellectual Property Fuel Cell Vehicles。
After two years joint efforts, at present, Wuhan Himalaya Optoelectronics Technology Co., Ltd and Tsinghua University Fuel Cell Research Group has already developed the full set of independence intellectual property fuel cell engine, this engine's control and integration, fuel cell stacks and key materials are self- development, and applied on Zhongzhi 10. 5 meters city bus successfully, this means China's first "domestic engine" independent intellectual property Electric- electric ( fuel cell+ l ithium batter y) city bus has launched, and marks China Fuel Cell Vehicles manufacturing deep localization has made a great progress.
For now, We have owned more than 10 China's patents for inventions about fuel cell engine fields of engineering technical innovations, and could provided fuel cell engines, stacks, relative parts and key materials capability of industrialization. Wuhan Himalaya Optoelectronics Technology Co., Ltd now is accelerating the industr y layout and leading China's fuel cell engine localizations, transferring more endogenous power for China's fuel cell vehicles emerging industries.
Specification: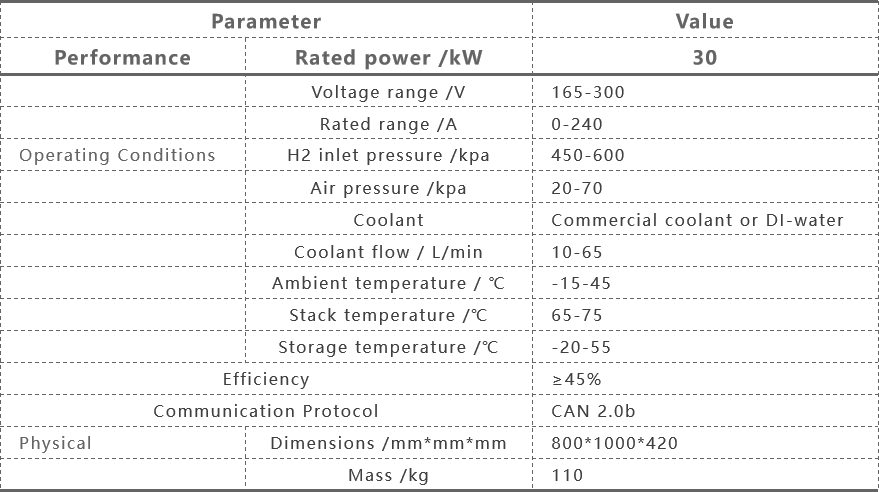 Technical Parameter:
►Advanced technology of fuel cell stack, with low temperature storage, low temperature starting and automatic shutdown protection.
►Highly integrated and modular design ,with the advantages of space saving, easy maintenance, and lower maintenance costs.
►The engine has the advantages of quick start, shutdown, and response.
►Remote intelligent monitoring and diagnosis technology: real-time monitoring of engine running status and real- time intelligent diagnosis.
►Car-level control chip, with high speed and high reliability.
►Efficient and fast logic control algorithm.
Applications:
an electric-electric hybrid engine developed specifically for city buses and logistics vehicles