Description
NEPEM® N-21C is made by a new resin flow technology. This new technology can combine with adulterate technology. Thus GN has many outstanding features, N-21X series of proton exchange membrane with special formula of graphene with high conductivity in the casting process. NafionPFSA membranes are widely used for Proton Exchange Membrane (PEM) fuel cells and water electrolyzers. The membrane performs as a separator and solid electrolyte in a variety of electrochemical cells which require the membrane to selectively transport cations across the cell junction. The polymer is chemically resistant and durable. Widely used: Vanadium battery, liquid flow battery, fuel cell, electrolysis water, hydrogen production and so on.
Size :
Roll
Standard roll: 0.61m*100m & 0.80m*100m
Custom size: 0.2m、0.3m、0.4m width with random length。(There is a 50 m2 minimum order requirement for non-standard roll widths and lengths.)
Sheets
Width: 0.30 m (min) To 1 m (max)
Length: 0.30 m (min) To 1 m (max)
Once opened and exposed to the environment, the membrane will equilibrate to the ambient relative humidity, and change in dimensions accordingly. Membrane order dimensions are specified and measured at 23°C and 50% Relative Humidity. The products that require our company to pretreat are guaranteed to be positive tolerances, and the products required for pretreatment are all sheets.
Package
The packaging of the film is wrapped in a small volume and has no coil core. As the size of the perfluoro ion membrane varies at different temperature and humidity, the NEPEM perfluoroionic membrane is protected by the hard protective film to facilitate the spraying of MEA and the stability of the size reduction. The outer packaging is packed in plastic barrels or hard cartons.
Please contact the salesperson for the special size and packing.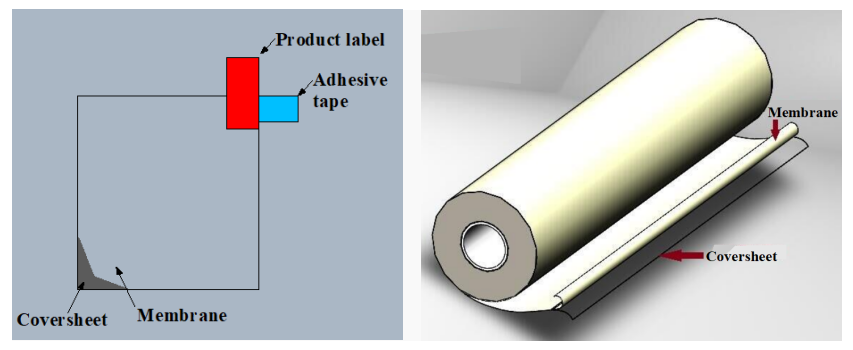 Properties



Performance in fuelcell
Comparison of impedance test method PEIS in fuelcell
Comparison of polarization curves in fuelcells
Comparison of polarization curves in fuelcells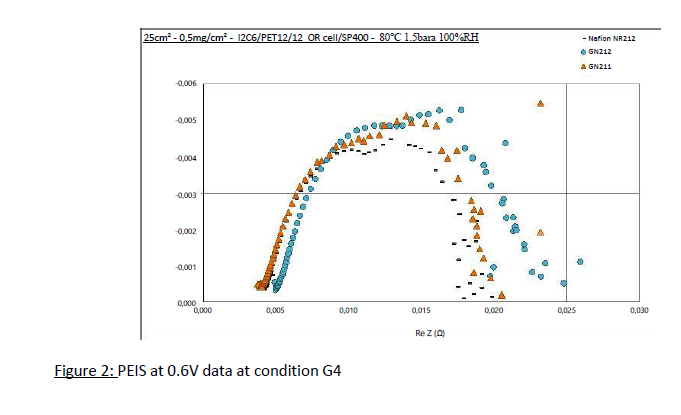 Comparison of polarization curves in fuelcells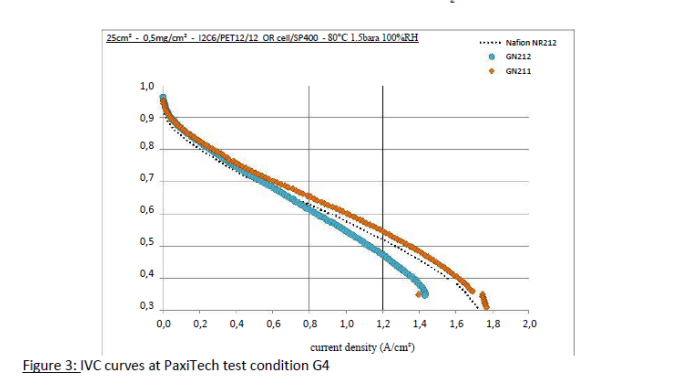 Performance of vanadium ion migration by membrane in vanadium battery
The Hittorff (Hittorf) method was used to determine the number of vanadium ions in a concentration differential electrolyzer. The molar number of electrolyzer was modified by spectrophotometer. The electric current density was 250mA cm-2 and the electrified time was 1 ~ 5h. The ion migration number for different valence states could be expressed as:

In the formula: the charge amount of Zi - I ion;
Ni - the amount of I ions migrated under electric field.
F -- the Faraday constant, that is, the quantity of electricity carried by 1 mol electrons; the value is about 96485 C mol-1.
Qtotal - the total quantity of electricity through the diaphragm in the test;
I - through the constant current, the unit is A;
T - the time constant current is s.

Scrap Disposal
Preferred disposal options are recycling and landfill. Incinerate only if incinerator is capable of scrubbing out hydrogen fluoride and other acidic combustion products.