Description
ACT commercial grade aramid honeycomb is manufactured from Nomex® paper (or equivalent) and coated with a heat resistant phenolic resin.
Applications
Excellent strength and stiffness are valued: ACT honeycomb uses include boat hulls, racing bodies, train panels, ship panels, ground transportation structures, military shelters, radome, sports and special panels.

Characteristics
▲High strength to weight ratio
▲High toughness to weight ratio
▲Excellent flame resistance, low smoke generation
▲Good water resistance
▲Good thermal stability and strength retention
▲Superior dielectric properties
▲Strong bonding surface for sandwich construction
▲Corrosion resistant, will not like aluminum honeycomb core
▲Good heat, and noise insulation
Availability
ACT is available as blocks, sheets, or pieces cut to dimension.
Cell Sizes : 3.2mm, 4.8mm, 4.8EX, 6.4mm,7.8mm
Densities : 32-160 kg/m3
Standard Dimensions : 1.22m x 2.44m; (Max :1.3m*2.6m)
Thickness :2mm-885mm, Tolerances :
Density ±15%
Cell size ±10%,
Thickness : ±0.15mm (< 50mm)
Length and Width of Slices : 0mm to +50mm
* Contact Customer Service for other sizes, densities and configurations
Product Designation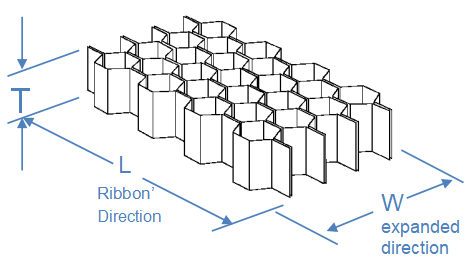 ACT Honeycomb Mechanical Properties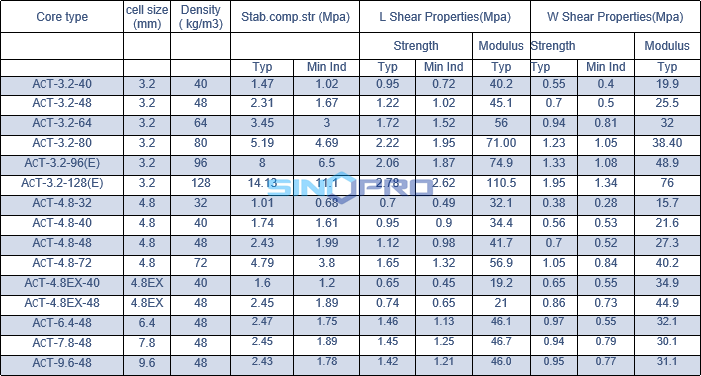 The above data is based on limited testing of specimens 12.7mm (0.5 inch) tested at room temperature.
NOTICE: We endeavors to ensure the information and data in this document are correct, up to date, and fully representative of the performance of the product as a whole. It is the responsibility of the purchasing party to perform the necessary studies and testing to ensure the product purchased is suitable for the intended purpose. We does not accept liability for damage or losses related to the use of this product as the conditions of use are not within ACT control.